Good Governance | Integrity | Athlete Development & Wellbeing | Health & Safety
AAA Supports Grassroots to Greatness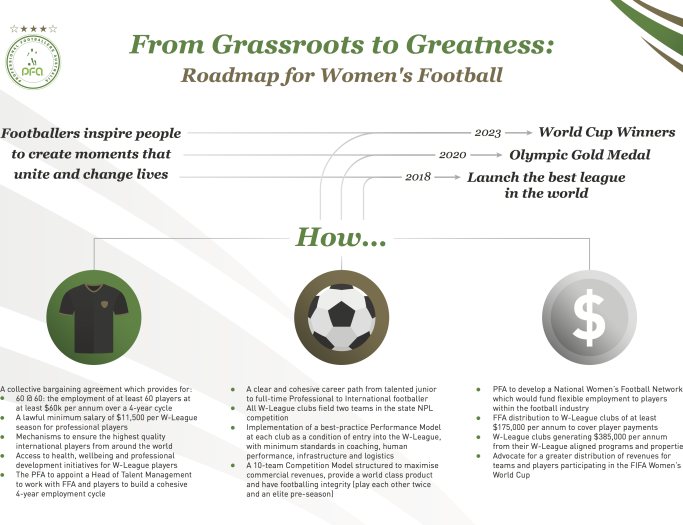 The AAA - the peak body for Australia's elite professional athletes which represents more than 4,000 athletes through Australia's eight major players' associations - welcomes the PFA's 'Grassroots to Greatness Roadmap' focused on growing women's football in Australia.
"Women's sport in Australia is undergoing a necessary and positive transformation. Professional opportunities should not be limited to male athletes and we're seeing a public and commercial appetite for the women's game" said AAA General Secretary Jacob Holmes.
"However, governing bodies must invest in the product and growth of the game. Without investment there cannot be growth, and whilst may appear as if women's sport is experiencing rapid growth, in reality the careers of the pioneers of this movement  have been and gone. It is now up to this generation of athletes to continue to push their respective sports and the collective movement forward to ensure women's sport on a professional scale is enshrined in the Australian sporting landscape"
"The PFA plan delivers on this mandate and will ensure women's football delivers a career path for its elite and emerging talent. This is a vital undertaking by the PFA and it has the support of not just football players in Australia, but the collective support of athletes in AFL, cricket, netball, basketball, rugby league, jockey's and rugby union through the AAA"