Good Governance | Integrity | Athlete Development & Wellbeing | Health & Safety
Universal Declaration of Player Rights launched in Washington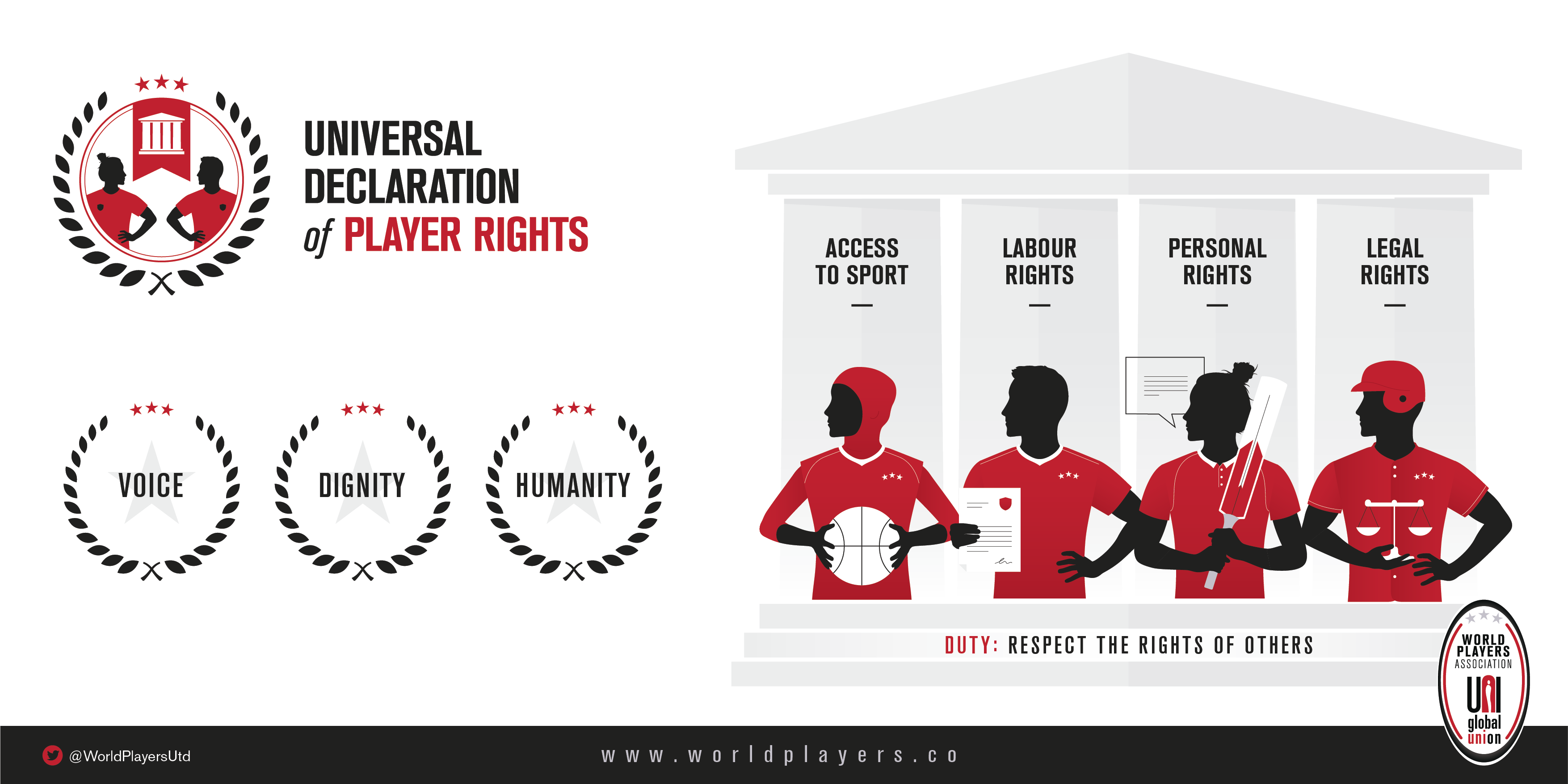 The world's leading player association executives—collectively representing more than 85,000 players and athletes—will today announced a Universal Declaration of Player Rights (Declaration) in Washington, D.C.
The Declaration will address the persistent, systemic and long-standing violations of players' fundamental rights throughout world sport. It is the first framework ever that explicitly articulates the internationally recognised human and labour rights of players across the world.
The unveiling of the Declaration will be part of a gathering of the world's largest and most influential player associations. In attendance and available for interviews will be 30 of the world's leading player union executives from a variety of sports including football, basketball, rugby, cricket, baseball and ice hockey.
Brendan Schwab, Executive Director of the World Players Association, said the Declaration fills a glaring gap.
"In the rule books of world sport there are thousands of pages detailing onerous obligations, but not one that coherently spells out the internationally recognised human rights of the athletes," he said.
"The result has been the widespread and sometimes tragic violation of the rights of the world's players. The Declaration makes clear that the rights of players can no longer be ignored and athletes must be able to quickly access justice to ensure their fundamental rights are protected, respected and upheld."
DeMaurice Smith, Executive Director of the National Football League Players Association (NFLPA) and Executive Committee member of World Players said athletes around the world should not have to accept violations to their basic human and labor rights just because of their profession.  
"We should want athletes to be involved and ready to stand for important issues in their community in the same way everyone should want athletes to have the same rights to fairness and safe working conditions of other workers. Unions are the only organizations to make this a reality and we are proud to host our brothers and sisters from across the world for this important meeting," he said.
In recent years, the need for the Declaration has become abundantly clear. Scandals have exposed corruption in international sport as well as rampant inequality, discrimination and abuse in professional and development leagues.
The Declaration also builds on the more than 50 years of experience of generations of players who have organised through player associations so that they can increasingly access and pursue sport free of discrimination, in keeping with their fundamental human and labour rights and, where needed, have swift and effective access to justice.