Good Governance | Integrity | Athlete Development & Wellbeing | Health & Safety
World Players Association: Declaration on Safeguarding the Rights of Child Athletes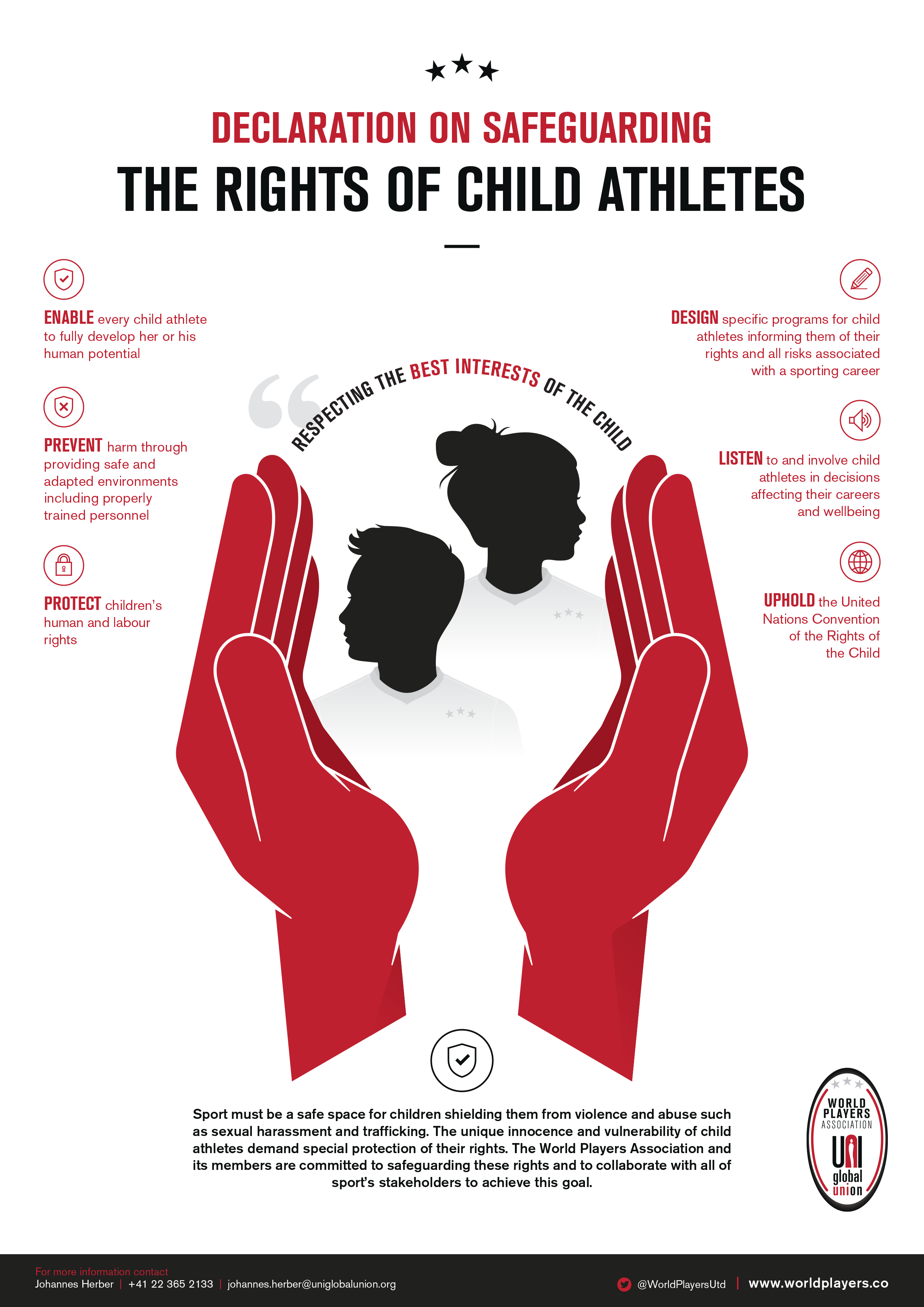 The World Players Association – of which the Australian Athletes' Alliance is a member – today released a "Declaration on Safeguarding the Rights of Child Athletes" to help protect children participating in sport from growing concerns over the early professionalisation of child athletes and the violation of their fundamental rights. 
The declaration places the best interests of the child as the guiding principle for any involvement of children in sport. It sets out key principles and action areas in which sport's stakeholders must work together to ensure sport is always a safe space for children.
AAA General Secretary Jacob Holmes commended the World Players Association for its strong, proactive stance on protecting the rights of children athletes and says all sports have a responsibility to help all athletes prosper not only as athletes, but as humans.
"We must remain vigilant in our protection of all athletes' rights, and in particular those of the vulnerable and young, to ensure sport is upholding the ideals we all value and admire," he said.
"Sport can and should be a place for enjoyment, participation, competition and community engagement. This declaration sets out the key principles which, if applied, can ensure this is the case." 
World Players Association Executive Director Brendan Schwab today provided the realistic reminder that all children should have the right to grow and play at their own at their own pace.
"In the quest for medals and new records, we tend to forget that child athletes are children first and athletes second. They must have opportunities to freely play and fully develop instead of having their identities narrowed early in the pursuit of sporting excellence," he said.
World Players is working in partnership with international child rights organisations including Terre des Hommes to monitor and evaluate efforts to safeguard children's rights in the world of sport.
"Children have unique vulnerabilities which demand special protection. We are encouraged to see the player association movement recognising that this protection must extend to professional sport as well," said Marc Joly, Head of Campaign at Terre des Hommes.     
 "All too often we see child athletes being denied their right to an education which must develop their personality and talents to the full. We see them being separated from their families at an early age to optimise their training and become victims of abuse at the hands of powerful coaches. Very rarely, however, we hear the children's voice in elite sport. There is clearly a need to create a space for elite child athletes to be heard and have their opinions respected," added Joly.