Good Governance | Integrity | Athlete Development & Wellbeing | Health & Safety
The Australian Athletes' Alliance
The Australian Athletes' Alliance – "the Triple A" – is the peak body for Australia's elite professional athletes. The AAA represents over 3,500 athletes through Australia's eight major players' and athletes' associations:
Australian Cricketers' Association (ACA)
Australian Football League Players' Association (AFL Players)
Australian Jockeys' Association (AJA)
Australian Netball Players' Association (ANPA)
Australian Basketballers' Association (ABA)
Professional Footballers Australia (PFA)
Rugby League Players Association (RLPA)
Rugby Union Players' Association (RUPA)
Our Values & Standards
The AAA and our member associations share important common values and standards:
a love of sport, that drives the dedication and sacrifice required to build a professional athletic career
a commitment to promoting the rights and responsibilities of Australia's elite athletes
an overarching responsibility to advance the wellbeing of Australian sport and its role in the community
a deep awareness of the short term and precarious nature of the athletic career path, and the importance of developing each athlete as a human being as well as a sportsperson
a commitment to ensuring all member associations have high levels of governance and are ultimately accountable to their membership.
The Australian Athletes' Alliance (AAA) Logo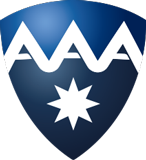 The Australian Athletes' Alliance (AAA) logo portrays the values of unity, courage, professionalism and fair play essential to the advancement of athletes' rights in Australia.
Shaped as a shield in the tradition of many of sport's most famous organisations, the three initials of the AAA rise strongly to form a mountain range in keeping with its standing as a peak body. They sit above an eight point star, which symbolises each of the member athletes' associations who collectively represent 3,500 of Australia's elite professional athletes.
The star, and the logo's colours of dark blue and white, are inspired by that unique Australian icon, the flag of Eureka.